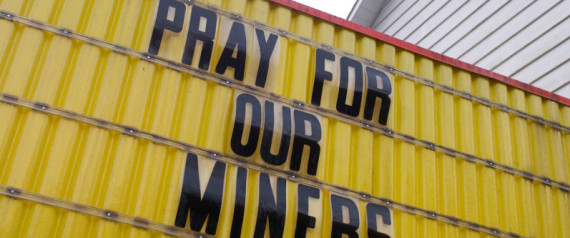 YORK -- The lead investigator examining the Upper Big Branch Mine tragedy lambasted coal company Massey Energy Thursday for failing to ensure the safety of the 29 workers who died in its West Virginia mine last year.

"I don't know how you could have assembled a worse record than the record they have assembled in the last few years," Davitt McAteer, the chair of the West Virginia Governor's Independent Investigation Panel and a former federal mine safety chief, told reporters in a conference call. Regarding any safety improvements since the disaster, McAteer said, "It does not appear the culture has changed at Massey. That is most unfortunate."

McAteer's report

, released to victims' families and then the public Thursday morning, outlined a series of safety failures by both Massey and federal and state regulators in the lead up to the April 5, 2010 explosion. Investigators accused the company of putting profits before the welfare of its workers, saying it had a "corporate mentality" that made the "drive to produce coal" its top priority.

According to the report, Massey's critical failures included poor ventilation inside the mine, a dangerous buildup of coal dust underground, outdated and poorly maintained equipment and basic safety checks that went ignored. The buildup of coal dust can be treated with a process known as "rock dusting," but the report said Massey failed to dust as much as it needed to.

"Miners testified that the rock dusting was inadequate in an ongoing basis at this mine," McAteer said. As for Massey's previous assertion that the explosion was due to a buildup of natural gas, McAteer said the evidence pointed elsewhere. "The footprint that we found underground is a footprint of methane and coal dust -- not a footprint of natural gas."

McAteer noted that about three-quarters of the victims whose bodies could be examined showed signs of coal workers' pneumoconiosis, commonly known as black lung disease. When compared with the U.S. average of 3.2 percent, McAteer said the rate among the deceased was "astonishing and disturbing" and "needs to be further investigated."

Massey's overall safety system, investigators wrote, amounted to little more than "window dressing."

Celeste Monforton, one of the investigators on McAteer's team, told The Huffington Post that Massey's safety failures were partly the result of its deeply embedded corporate culture. "We make the assertion that what became normative behavior there at the mine is what outsiders would call deviant behavior," Monforton said.

As for the report, Monforton said, "I'm not sure Massey is going to like it."

Massey posted an initial response to McAteer's report on Thursday at its website. The company said it still disagrees with McAteer's fundamental assertion that the explosion was fueled by a buildup of coal dust. "Again, we believe that the explosion was caused by a massive inundation of methane-rich natural gas. Our experts feel confident that coal dust did not play an important role."

Massey declined to provide additional comment.

The investigators' criticism wasn't reserved for Massey alone. Regulators with both the Mine Safety and Health Administration (MSHA) and West Virginia's Office of Miners' Health Safety and Training failed in their duties as watchdogs, in part because of poor funding and low staffing, according to the report.

When speaking with reporters, McAteer argued systemic change was needed in the American approach to mine safety -- both by mining companies and the government agencies tasked with overseeing them. Many of the safety recommendations made in the Upper Big Branch report, he noted, had been put forth in previous reports on earlier tragedies, such as the

2006 Sago mine disaster

, also in West Virginia.

"The mining industry must step forward and change the way business is being done," McAteer said. "We have to get the industry in its entirety to agree and accept and understand the importance of these protections and make sure those protections are put in place."

Part of the problem, McAteer said, was a persistent "disconnect" between the boardrooms of mining companies and the mines where workers put their lives on the line. Noting that it was hours before Massey even knew how many miners were underground as the tragedy was unfolding, McAteer also said the coal industry needs to get itself "out of the stone ages" and start using technology that can help safeguard its workers.

"Coal will be here for a period of time," McAteer said. "That's a good thing. But it can't be a good thing if there's reckless disregard for the safety of miners."
MORE: